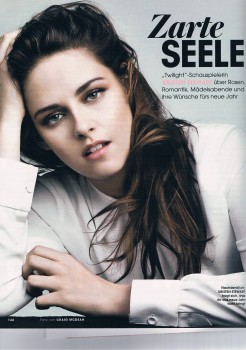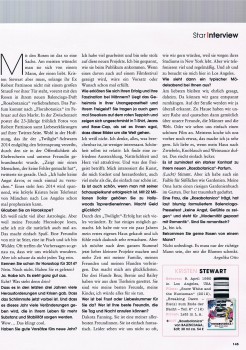 Do you believe in horoscopes?
I don't know much about astrology. But since my friends read horoscopes I take a look at them from time to time. That's fun. A girlfriend of mine is Taurus, another is Pisces, and I'm Aries. Sometimes the predictions are so spot on that we're really amazed. But I don't look at it every single day.
Do you know your horoscope for 2014?
No. Not yet. Have you read it?
Yes. I did. It looks pretty good.
Really? What does it say?
That the last three years have been full of challenges and crises. That by now, the worst is over. And that this year is waiting with a lot of changes that will give your life more substance and stability.
Wow, that sounds cool.
Do you have any kind of resolutions for the New Year?
I have worked a lot and am very proud of all these new projects. I'm excited to see how the audience will receive them. If one of them were shown at a film festival one resolution or wish would already be fulfilled.
How do you explain your success and the fact that men find you fascinating? Is the secret your non-conformity and your free spirit? You tend to wear sneakers on the red carpet and can often be seen without make-up on, in T-shirt, jeans, and base cap, as if you don't care that these photos will be published all around the world.
I don't know. I think that everything that's calculating is less interesting. Beauty itself is relative. I consider a content exuding contenment, naturalness, and heart a lot more attractive. And with regards to the free spirit: I love art which is demanding and challenges me; even a lot more than art that is just nice.
Is it also nice to be successful with one's acting career? By earning 22 million dollars a year you are one of the best-paid actresses in Hollywood. Is money something that can make result in happiness?
A lot has changed due to the success of Twilight. It made a lot possible. A couple of years ago, I bought my first house and I feel very grown up because of that. But after all the hype, I'd prefer working on smaller projects right now and to spend more time with my family, my friends, and my dogs. That's what really makes me happy. We rescued the three dogs, Bear, Bernie, and Bailey, from a shelter. They are like my best friends, my children. I'd do everything for them.